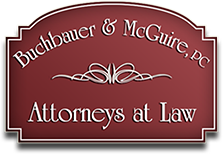 Buchbauer & McGuire, PC
110 North Braddock Street
Winchester, VA 22601-3914
Telephone
(540) 722-2300
Fax
(540) 722-3174
Our Office Hours
Monday – Friday
8:00am – 5:00pm
E-mail Us
Adoption
Buchbauer & McGuire is pleased to have experienced part of the joys of adoption by representing adoptive parents.  Our clients have included parents adding to their family through parental placement adoptions, adoptions through the Department of Social Services, and international adoptions.
In a parental placement adoption, the adoptive parents typically enter into an Entrustment Agreement with the birth parents authorizing the adoptive parents to care for the child.  The next stage of the parental placement adoption takes place in the Juvenile and Domestic Relations District Court, where the Court accepts the birth parents' consent to the adoption.  Following an interlocutory period of six months, the adoptive parents then proceed to obtain a Final Order of Adoption in the Circuit Court.  Virginia law relating to parental placement adoptions is very detailed, and the attorneys of Buchbauer & McGuire have extensive experience with the statute.
Some families grow through the adoption of a child through the Department of Social Services.  Often this happens when a family has been fostering a child who becomes available for adoption.  In these adoptions, the Department of Social Services petitions the Court to terminate the rights of the birth parents and, if the Court does so, the adoption may proceed.
While international adoptions vary by country, the adoption often is finalized in the child's country of origin.  While re-adoption in Virginia is not required in such a case, many adoptive parents choose to do so in order to obtain a birth certificate for their child that is in English.