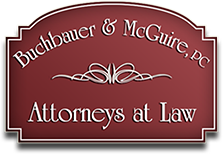 Buchbauer & McGuire, PC
110 North Braddock Street
Winchester, VA 22601-3914
Telephone
(540) 722-2300
Fax
(540) 722-3174
Our Office Hours
Monday – Friday
8:00am – 5:00pm
E-mail Us
Premarital Agreement
Some couples choose to enter into an agreement prior to marriage in order to make each of their respective rights clear.  In Virginia, a premarital agreement must be in writing and signed by both parties. As with all contracts, each party must enter into a premarital agreement voluntarily.  In addition, a party may challenge a premarital agreement on the grounds that it was unconscionable when executed or that a party did not make a fair disclosure to the other prior to the execution of the agreement.  Common provisions in a premarital agreement include:
The rights and obligations of each of the parties in any of the property of either or both of them;
The disposition of property upon separation, marital dissolution or death of either party;
Spousal support
The attorneys of Buchbauer & McGuire are experienced in drafting Premarital Agreements tailored to the specific needs and concerns of our clients.