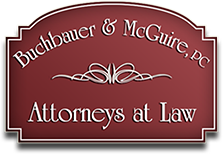 Buchbauer & McGuire, PC
110 North Braddock Street
Winchester, VA 22601-3914
Telephone
(540) 722-2300
Fax
(540) 722-3174
Our Office Hours
Monday – Friday
8:00am – 5:00pm
E-mail Us

Buchbauer & McGuire, P.C. strives to provide its clients with the representation needed in any situation by experienced attorneys. Whether in litigation, negotiation, mediation or collaboration, our professionals work with you to determine the best process for the resolution of your case and then skillfully handle the matter in an attempt to secure the best result for you.
While Buchbauer & McGuire, P.C. provides general civil and criminal defense representation, our professionals spend the bulk of their time handling a wide-range of family law matters including, but not limited to, divorce, child custody, child and spousal support, property division and adoption matters. Our professionals are well regarded among the family law attorneys in the Northern Shenandoah Valley of Virginia.
We invite you to let us become part of a team to represent your interests. Contact us to schedule an appointment with one of our experienced legal professionals.