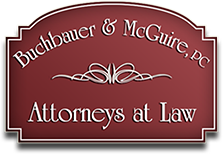 Buchbauer & McGuire, PC
110 North Braddock Street
Winchester, VA 22601-3914
Telephone
(540) 722-2300
Fax
(540) 722-3174
Our Office Hours
Monday – Friday
8:00am – 5:00pm
E-mail Us
Alternative Dispute Resolution
As experienced litigation attorneys, we know that litigation should be the last option for resolving a conflict. Several alternatives exist, including negotiation, mediation and collaboration.
In a traditional negotiation, each party strives to reach an agreement out of court. The negotiation may take place through conference calls, the exchange of letters or a settlement conference. Negotiation often involves as much advocacy and strategy as litigation but empowers the parties to craft the settlement that best serves their needs.
Mediation is a process guided by a neutral third party who is trained in conflict resolution and usually is familiar with the subject matter of the conflict. While mediators often are lawyers, it is not a requirement. The parties may have legal representation during the mediation or they may choose not to include their attorneys until an agreement is ready to be drafted or reviewed.
The collaborative process is a method of alternative dispute resolution that was developed from the mediation model and has exploded in the family law area. In a collaborative case, the clients determine their own resolution with the support of a team of trained professionals. The team of professionals may include attorneys, mental health professionals and/or a financial professional. The goals of the professionals are to make sure the clients are fully informed, learn how to communicate with each other successfully and are emotionally prepared to engage in the collaborative process. In order to achieve these goals, the parties must commit to resolve their matter through collaboration without resorting to litigation and waive all confidentiality. The collaborative process is distinguished by its transparency and respect for the parties.