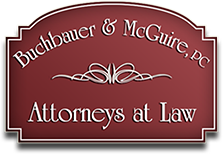 Buchbauer & McGuire, PC
110 North Braddock Street
Winchester, VA 22601-3914
Telephone
(540) 722-2300
Fax
(540) 722-3174
Our Office Hours
Monday – Friday
8:00am – 5:00pm
E-mail Us
Divorce
Each divorce is unique. However, in all divorces the goal is to end the marriage and often to resolve child custody or visitation, equitable distribution of property and/or support.
A divorce case starts informally when a couple separates and one of the parties has the intent that the marriage is over.  If the parties are not able to agree on a matter that must be resolved as part of the divorce, one party may file for divorce in the circuit court, have an attorney attempt to negotiate a compromise, or ask the other party to participate in mediation or a collaborative divorce.
A divorce action formally begins when one party files a Complaint, or formal request for divorce.  The other party may respond by filing an answer to that Complaint, specifically affirming or denying each statement contained in the Complaint.  Sometimes, the responding party may file his or her own request for divorce in a pleading called a Counterclaim. The party filing the first pleading is called the Plaintiff, and the responding party is called the Defendant.  There is no particular benefit to being the first party to file, although the timing of the filing may be relevant in determining the effective date of support.
A party may file for a divorce based on fault grounds (such as adultery, cruelty or desertion) or no-fault grounds (meaning a divorce granted merely because a couple has separated for the requisite amount of time).
Every divorce involves information-gathering, which can be accomplished informally by a mutual exchange of financial information, or more formally by interrogatories (written questions that a party must answer under oath), requests for production of documents, depositions, requests for admissions, and other discovery techniques.
At any point in the litigation, the parties may agree on some or all of the issues that must be resolved in connection with the divorce. If they do agree, they enter into a Separation Agreement or a consent court order that resolves the issue. If the parties are able to resolve all outstanding issues by means of an agreement or consent order, obtaining the divorce is normally a straightforward administrative process. If the parties cannot do so, the Court will at trial.