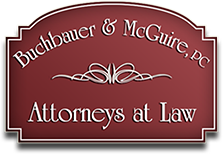 Buchbauer & McGuire, PC
110 North Braddock Street
Winchester, VA 22601-3914
Telephone
(540) 722-2300
Fax
(540) 722-3174
Our Office Hours
Monday – Friday
8:00am – 5:00pm
E-mail Us
Separation Agreement
A "Separation Agreement" or "Property Settlement Agreement" is a written document that embodies the agreements reached by parties who are in the process of divorcing.  The majority of divorces involve the execution of a Separation Agreement, whether the agreement is drafted and executed soon after a client's first meeting with an attorney or whether it is executed the day of a scheduled final trial.
In a separation or property settlement agreement, parties may contract with respect to:
The rights and obligations of each party regarding any asset or debt
Custody and visitation of any minor children
Spousal and child support
Any other matter, including the spouses' personal rights, obligations and liabilities, not in violation of public policy
Once signed by both spouses, the agreement is presented to the court granting the divorce. The terms of the agreement are incorporated (but not merged) into a court order. Certain aspects of the agreement may be subject to future modification by a court, while other provisions cannot be changed by a court.