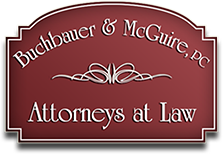 Buchbauer & McGuire, PC
110 North Braddock Street
Winchester, VA 22601-3914
Telephone
(540) 722-2300
Fax
(540) 722-3174
Our Office Hours
Monday – Friday
8:00am – 5:00pm
E-mail Us
Spousal Support
Spousal support (also referred to as "alimony" or "maintenance") can be one of the issues in a divorce that keeps the matter from being resolved amicably.  Temporary spousal support may be granted from the date of separation until a final divorce is granted.  In determining temporary spousal support, the Court uses a guideline calculation based on the parties' gross monthly income but also considers the payee's needs and the payor's ability to pay.
The amount and duration of post-divorce spousal support is in the discretion of the Court.  The Court is guided by a number of factors, including:
Each spouse's obligations, needs and financial resources, including, but not limited to, income from all pension, profit-sharing or retirement plans, of whatever nature
The standard of living established during the marriage
The duration of the marriage
The spouses' ages and physical and mental conditions, and any special circumstances of the family
The extent to which the age, physical or mental condition or special circumstances of any child would make it appropriate that a spouse not seek employment outside of the home
Each person's monetary and nonmonetary contributions to the well-being of the family
The spouses' property interests, both real and personal, tangible and intangible
The provisions made with regard to division of marital property
Both spouses' earning capacities, including their skills, education and training, and the present employment opportunities for persons possessing such earning capacity
The opportunity for, ability of, and the time and costs involved for a spouse to acquire the appropriate education, training and employment to obtain the skills needed to enhance his or her earning ability
The decisions regarding employment, career, economics, education and parenting arrangements made by the couple during the marriage, and their effect on present and future earning potential, including the length of time one or both of the spouses have been absent from the job market
The extent to which either spouse has contributed to the attainment of education, training, career position, or profession of the other party
Other factors, including tax consequences, as are necessary to consider the equities between the spouses
The Court may order that spousal support be paid periodically or in a lump sum.  Spousal support may be awarded without regard to the reason for the breakdown of the marriage, although a person who commits adultery is presumptively barred from receiving spousal support.
By law, spousal support terminates upon the death of either spouse, the remarriage of the payee, or the payee's cohabitation with a person in a relationship analogous to marriage for a period in excess of one year.