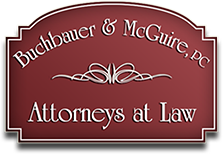 Buchbauer & McGuire, PC
110 North Braddock Street
Winchester, VA 22601-3914
Telephone
(540) 722-2300
Fax
(540) 722-3174
Our Office Hours
Monday – Friday
8:00am – 5:00pm
E-mail Us
Wills and Powers of Attorney
As part of a total estate plan, the attorneys at Buchbauer & McGuire, P.C. recommend that all of our clients have current Wills, powers of attorney, and advance medical directives.
Wills
Estate planning is important for everyone, but perhaps none so much as a person going through a divorce. It is important for each spouse to review his or her current Will to determine if his or her intentions as to property will be met in light of changing circumstances.  A Will can establish not only who will receive your property when you die, but who will raise your children, who will handle the funds left to your minor children, and who will manage your estate.
Power of Attorney
A Power of Attorney is a legal document that allows one person to act in the place of another and to make certain decisions described in the Power of Attorney. A Power of Attorney can be effective immediately upon execution (a "Durable Power of Attorney") or upon a person becoming incapacitated (a "Contingent Durable Power of Attorney").  A Power of Attorney allows a trusted friend or family member to handle your business or other financial affairs for a period of time.
Advance Medical Directive
Virginia law permits an individual to name a trusted friend or family member to make his or her health care decisions if, for some reason, the individual is unable to make such decisions. This authority is granted in an Advance Medical Directive, which also gives instructions on how the person would like to proceed in the event that death is imminent. An Advance Medical Directive relieves your loved ones from having to make this difficult decision in a time of crisis.